Meet Movavi Video Converter – a movie converter for your every need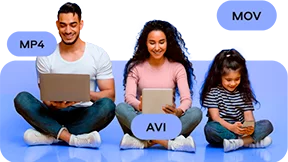 Convert to any format instantly
Get the video converter with a free download option and convert files at high quality – faster than with any online video converter. Transfer your films, music, and pictures in any format to any platform or device.
See all formats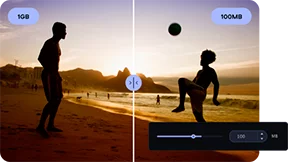 Compress large videos
Compress batches of files without losing quality to save more of your precious moments.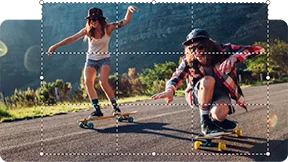 Edit your files
Trim and crop your video. Create exciting clips, adjust colors, and insert effects. Merge multiple files into one.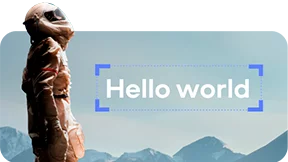 Find and add subtitles
Find the right subtitles on your computer or online directly from within this movie converter. Add them to your videos right away.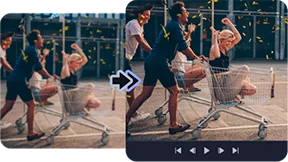 Discover AI quality upscaling
Try the new AI-powered feature to upscale the quality of your videos.
Your go-to video converter with a free download option
Want a free download of a video converter that can help you quickly change the format of your videos, images, and other digital content? Movavi Video Converter with a free download option combines a smooth, user-friendly experience, conversion in the blink of an eye, and high-quality end results. Get the video converter download for free and discover tons of useful features!
The software supports any type of format, including MP4, GIF, AVI, MOV, RAW, WMV, DVD, VOB, MKV, MP3, and more, for all popular devices from Apple (iPhone, iPad), Xiaomi, Samsung, Huawei, Sony, and many others.
Besides changing video formats faster than with any online video converter, you can use the app as an image converter, audio converter, or even video-to-audio converter – if you ever need to convert video to audio.
You don't have to be tech-savvy. Just download this movie converter for your Windows PC or Mac, and you'll be sharing your media creations with others in minutes.
Drag and drop your files into the program window.
Click the icon for the format you need.
Click Convert to get the process started.
Drag and drop your files into the program window.
Click the size value of a file and adjust the settings you need.
Click Convert to save the changes.
Drag and drop your files into the program window.
Click Edit and make changes to your files.
Click Convert to save the changes.
Drag and drop your files into the program window.
Click the subtitles section. Browse for the right subtitles and add them to your file.
Click Convert to save the changes.
See what our users have to say
We read all your feedback about the app! Here are some examples.
The program is great! and your support is amazing! I experienced a bug on the steam version on with I was not able to merge subtitles with the video, but I contacted the support and you guys sent me a licence key for the website version of the program! This versions works flawless!! this is one of the best video software that I've ever used! thanks for the great product and the amazing support! keep the great work!
Johnny Green
video enthusiast
Nice product. I did not think it would help me because initially, it did not do what I thought it would (to transfer a video into a .jpg with individual pictures. But today, I needed to incorporate a DVD into a video and it worked perfectly.
Excellent program and does just what I need in the way of converting the mts files I am using to the Quicktime format I need for the finished product. Also the editing tools are simple and intuitive for helping me pick out the scenes and getting them ready for converting.
It is very helpful it has helped reduce my space in my PC. Thank u and i recommend every one to use this video converter
Great, simple and so easy to use. Keep developing.
awsome application and software really like it so much thank you guys
The fastest and most intelligent software, a life saver.
We're trying our best to make your life easier!
Our team is eager to make your experience using the Movavi conversion software as smooth and enjoyable as it can be. We appreciate any kind of feedback from you – it all helps make a better product.
Thank you for choosing Movavi!
Frequently asked questions (FAQ)
What is the best video converter?
There are many media conversion apps that can help you handle your files with various degrees of success. Finding the tool that does exactly what you need and is better than other options is very tricky. A good video format converter must contain the following key features:
Support for a wide range of video and audio formats
Compatibility with the most popular devices
Fast conversion
Batch video file processing
Pre-conversion video editing
Based on these criteria, Movavi Video Converter can be viewed as one of the best desktop tools to convert videos with speed and ease. It has all the relevant features and more – like finding and adding the right subtitles to your movies.
How can I change a video format?
What are the differences between desktop and online video converters?
Even though desktop and online video converters serve the same basic purpose, which is converting media files, they have quite a few differences. Desktop converters are generally more powerful and more reliable tools with extensive sets of features. These programs also support more formats and offer higher video conversion speeds compared to their online counterparts. Unlike desktop video converters, online services don't need to be downloaded and installed but usually limit the number of single conversions and the size of files you can add to the software. So, before you convert videos online, consider all the available options and weigh the downsides and benefits of each one.
Is Movavi Video Converter safe?
Yes, the program itself and the Movavi website are completely safe to use. See more details
Can I use Movavi Video Converter to convert audio and images?
Yes, you can. Movavi Video Converter lets you change any file type, whether it's a video, audio, or image. All you need to do is download the application and follow these simple steps.
Download Movavi Video Converter for Windows
Download Movavi Video Converter for Mac
Install and launch the converter.
Add your audio or image files into the program window.
Select the format into which you want to convert your files.
Click the Convert button. The processed files will be ready in just a couple of minutes.
Movavi Video Converter 2022
Processor
Intel®, AMD®, or compatible processor, 1 GHz
Graphics card
NVIDIA® GeForce® series 8, Intel® HD Graphics 2000, AMD Radeon™ R600 or higher graphics card with up-to-date drivers
Display
1280 × 768 screen resolution, 32-bit color
RAM
2 GB for Windows 7, Windows 8, Windows 10, and Windows 11
Hard drive space
120 MB available hard disk space for installation, 750 MB for ongoing operations
* The free version of Movavi Video Converter has the following restrictions: a 7-day trial period; a watermark on output videos; when converting audio files, an ability to convert only half the file length; and, when working in the SuperSpeed mode, an ability to convert only half the video file length. Learn more
Disclaimer. Please be aware that Movavi Video Converter does not allow you to convert copy-protected media files and DVDs.
Sign up for news and special offers
Your email address was successfully added. Thank you for your interest in Movavi!